I don't typically delve into my personal life too often but in the spirit of openness, I wanted to do things a bit differently and share my 2018 word of the year.
But first, let's start from the beginning of this year. My 2017 word was Courage, inspired by one of my favorite C.S. Lewis quotes: "Courage, dear heart." It embodied what I felt I needed to truly put myself out there as a NYC Wedding Officiant and grow my small *love-spreading* business. I noticed that this word was a sort-of guide in all biz-related things. I went to more Tuesdays Together meetings for fellow creatives, collaborated with talented vendors, connected with leaders in the celebrant arena, delved into this love-filled/marriage-focused world, and MOST IMPORTANTLY, had the honor of celebrating beautifully in-love couples.
Looking back on 2017, it was incredibly powerful to realize that one, two-syllable word could be that much-needed touch point to help me grow!
Now with 2018 around the corner and my purchase of Lara Casey's Powersheets, I couldn't help but want to find the PERFECT word for my personal and business life. Fuck, perfect! I know. But it sneaks up on you, doesn't it? Besides, I couldn't put my finger on what I actually wanted to say. 
Purpose?   Whole?   Live Fully?   Appreciation?   Intentional?
All of these words felt like I was circling the one that would finally click. Needless to say, this 2018 word didn't come to me as easily as Courage did, but that's probably because it's not a term people use often in any 'ol conversation. I know I want this year to be intentional and whole across every part of my life. I want to be present with my parents and my sister when we visit instead of half-busy worrying about an unsent email; I want to be making time to have adventures with the hubs instead of pushing things aside because my schedule overflowed. 
Ya see, I noticed that I started becoming the hustle! Ouch. I wasn't purposefully making time to fully enjoy the people who matter the most to me.
Time is finite, after all, right?! So I realized that I need to be present in everything and can no longer half-ass my life. So in true New York City fashion, it hit me during a conversation with a friend on my train ride home.
I gotta FULL-ASS my life!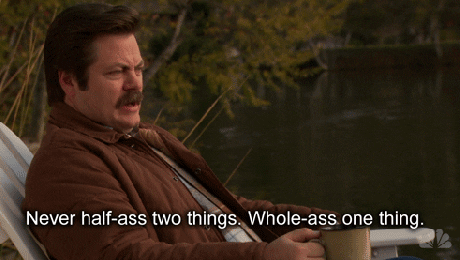 Yup, Full-Ass! Now, this isn't the most eloquent word choice. HAHA! Some may even find it trashy. But it feels exactly right for me. If I wanna kick ass in my one and only life then I have to be present in every area that matters to me - my family, my hubs, my friends, my couples, my business, and ME. 
So how do I define FULL-ASS?
FULL-ASS (verb): to be 100% present, intentional, and wholeheartedly focused
on the important aspects of life.
Synonym(s): Whole-Ass, apparently.
Antonym: Half-Ass; to do something without one's whole self involved  
I know a word of the year isn't for everyone. Most people make resolutions and some have annual themes. Whatever it is you have for the upcoming new year, share it with me in the comments below. I'm so beyond curious to know.
Please reload